Self-adhesive Braille label
Marburg Medium printed directly on the label
It is possible to have the raised Braille print, certified by the Polish Association of the Blind, on any label printed in any printing technique. Braille is typically printed on one production line along with other colours or, in case of digitally printed labels, it is applied post printing.
Properties
Transparent, white or colour printed labels are made first, according to customer's requirements and supplied artwork, and then the raised Braille print is applied. Customers have the full range of available self-adhesive substrates and printing techniques to choose from.
Quality
The height and space between the dots has to be precise and the whole production process is controlled by a separate procedure dedicated to the pharmaceutical industry.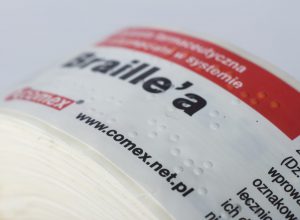 Application
products that require additional information in Braille.
Submit your enquiry