Sandwich
A double layer speciality label – peel off the top layer and re-apply elsewhere.
Two or three self-adhesive layers combined together, where the entire or part of the top layer can be peeled off from the bottom layer and re-applied elsewhere (to identify a batch) or used as a coupon.
Properties
We use both ready-made multilayer substrates, like triplex (a double silicone base) and custom-made combinations, like a transparent base film to allow countless possibilities for the final effect.
Quality
Sandwich labels are used for the purpose of keeping the records, e.g. of used vaccines, where the reliability of peeling-off and re-application of the correct portion of the label with barcode must be guaranteed. We only cooperate with reliable suppliers and the production process is controlled at all stages.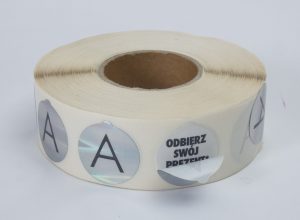 Application
For the purpose of documenting the use of a product by means of applying the batch number of the product, e.g. a vaccine.
For promotional campaigns, collectible labels or discount coupons.
Submit your enquiry