Stitched leaflet
Functionality for extended content on a small surface
Stitched paper leaflet in a form of a self-adhesive booklet is our response to the growing amount of information and booklet pages, combined with the need of ease of use.
Properties
It contains many more pages compared to the folded or perfect bound leaflet and remains easy to use for users who can repeatedly peel off and re-apply the booklet.
Quality
The production process of both the leaflet and the booklet is controlled at all stages to ensure that the highest standards are met.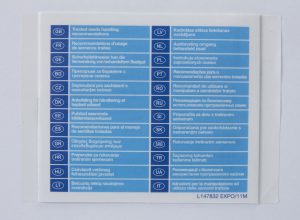 Application
Specialty products or products that require a leaflet in many languages to be attached directly to the product.
Especially recommended for the following industries:

chemical,
plant protection products,
Submit your enquiry