Foil
Self-adhesive foil labels – durability and strength
The available options of self-adhesive foil labels are: white, transparent or metallic, e.g. golden or silver. Different thickness and types of foil are available to meet customer's demands. The smooth surface of the foil ensures excellent print quality and the print is more eye-catching compared to a paper label.
Properties
It is important that the aesthetic valueof foil labels is maintained on elastic packaging that is often squeezed, exposed to external factors, moisture or grease.We recommend foil labels to be used on plastic, glass and metal packaging. Different types of adhesive are available depending on the needs.
Quality
Foil labels are durable and flexible. They remain aesthetic and intact at all times and are easy to dispose of when applied to PE or PP packaging, as both the packaging and the label can be recycled.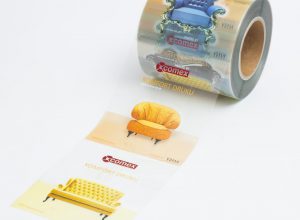 Application
Submit your enquiry