Sequentially numbered labels
Label inventory records – sequential numbers on a silicone liner
Products are supplied to customers on rolls with several hundred to several thousand labels on each roll. To help keep records of labels, sequential numbers are printed on a silicone liner under each label, allowing operators to check the amount that has been used or remains at hand.
Properties
Numbers are printed using the inkjet technique on a silicone liner, which provides a durable effect and is available for all types of products. It ensures 100% accuracy of inventory records.
Quality
Our inkjet printers are equipped with two photocells and the number can only be printed if the label has been detected.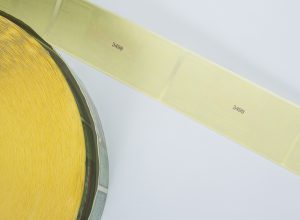 Application
Pharmaceutical industry and other manufacturers or packaging&customizing industry where 100% accuracy in keeping records of labels on rolls is required.
Submit your enquiry