Alphanumeric codes
Variable data print – scratch off label on request
Alphanumeric codes are elements of many promotional campaigns. Codes can be printed on any product of your choice: label, booklet pages, or peel off label.
Codes printed on the self-adhesive label can be coated with scratch off ink.
Properties
Customers may choose from the most simple to very refined code labels, depending on their budget. If you have an idea to use a code, we will work it out for you.
Quality
Codes are retrieved from an electronic data base and their use must be recorded. Every production process is subject to our quality control procedure and is supervised. Customers may ask to be given access to waste disposal reports.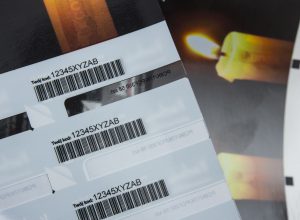 Application
Promotional campaigns.
Submit your enquiry